A superior option to traditional BS&W meter technologies, the patented KAM® LRW™ Low Range Watercut meter offers the high accuracy and repeatability of microwave measurement in a package specifically designed for custody transfer and other low-range applications such as LACT units.
Unique to the LRW™, AnyDensity™ technology allows the instrument to compensate for any change in density across the entire API gravity range.* Density compensation is paramount in situations where a single truck or rail unloading site could see swings in API gravity from the teens to the 70's.
The patented and proven microwave technology used in the LRW™ provides industry-leading accuracy – as low as ±0.03% up to 3% water content. And, high-quality components made and assembled entirely in the USA provide reliable and consistent performance for long-term use. Plus, the unit can easily be calibrated in line.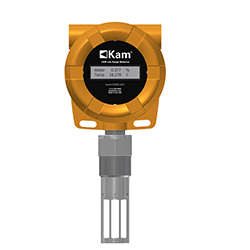 With insertable and spool/flow through models, the LRW™ also offers installation flexibility that no other unit can match.  Fixed insertion models for line sizes 3" and higher install perpendicular to the line through a 1.25" port. No pool or additional vertical run required. Spools can be custom fabricated for lines from 1-2" or for units replacing other models. Spools can also incorporate static mixing elements to ensure a homogeneous flow and manual draw-off valves key for calibration and verification. For large diameter lines over 8", insertable/retractable units are available that can be installed without having to drain the line.
The KAM® LRW™ is a part of a suite of instruments designed for LACT units and other custody transfer applications which also includes the SMP Static Mixing Plate and the E-IAS Isokinetic Automatic Sampler.
* requires density input
CLICK HERE for a white paper on Microwave Resonance Accuracy
Related Links:
API MPMS Technical Report 2570 Continuous On-line Measurement of Water Content in Petroleum
---